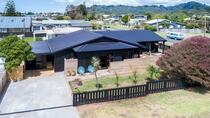 100 Mary Road Whangamata
Hi Sharlene, here's eveything you need to know. The 100 Mary Road document below is printed out on the bench for you along with a full information pack 'what to do' etc.
KEYS: The Rumpus Room/Back room has its own key and it's hanging on the inside back door. It has a GREEN TAG – We always leave it there. The key to the house I'll give to you Wednesday. The keys to the gates are on the bench and have a RED TAG. 
We hope you enjoy our speacial place – We love it!
John & Lisa McCarthy